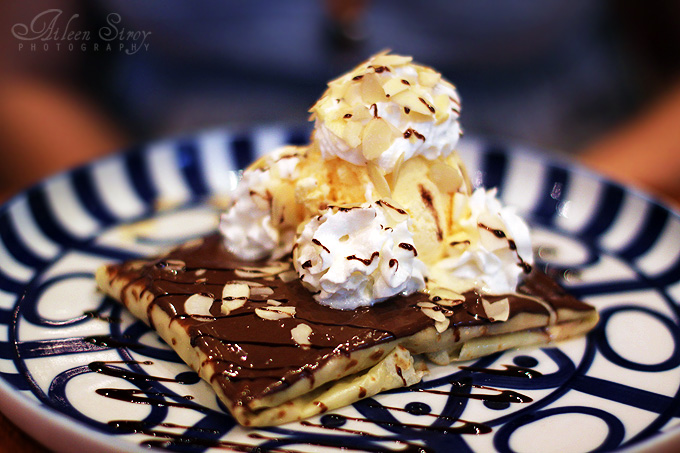 My friend Jane arrived today from Cebu and we spent the entire afternoon together -- talking mostly about life and love. D joined us for an early dinner at Cafe Breton, my favorite crepe place in the country.
I've been such a big fan of their savoury crepes for a decade now.
I love the homey, colorful ambiance. And the service, excellent!
Here's a list of my personal faves --
Galette Don Quixote, Galette Paysanne, Poseidon, La Pinay, Blueberries and Cream, La Delice, and Nutella.
MENU

Galettes

Galette Bretonne P254.50
Spinach, shrimps sauteed with crab meat, fresh cream, Gruyere cheese Galette

Don Quixote P246.00
Chorizo, onion, tomato, cream, mozzarella

Galette Super Complete P214.50
Ham, egg, cheese, tomatoes, mushroom, onion

Galette Rustique P182.50
Smoked bacon, tomato provencale, mozzarella, egg

Galette Paysanne P273.50
Whole Hungarian sausage, onions, egg, asparagus with cheese sauce

Galette Marrakech P211.00
Whole spicy Moroccan beef sausage with egg onions and tomato

Galette Marrakech P211.00
Whole spicy Moroccan beef sausage with egg onions and tomato provencale

Favorites

Dracula P110.00
Cheese, tomato and garlic

Vesuve P178.50
Ham, cheese, tomato, garlic and chili

Hawaii Five O P208.00
Ham, mozzarella, pineapple, onion, mushroom

Neptune P165.00
Tuna, dairy fresh cream, tomato, onion and mushrooms

Poseidon P227.50
Smoked salmon, dill sauce, sour cream, capers

Excalibur P195.25
Ham, emmental cheese, asparagus spears sauteed with onions and mushrooms

Hamburcrepe P223.50
Juicy burger patty on a bed of spinach, sauteed mushrooms, cheese, topped with tomato provencale

Dessert Crepes

Butter and Sugar P80.00

Butter and Jam P93.75

Mixed Fresh Fruits P135.00
Mango, banana and pineapple

Islander P204.00
Mixed fresh fruits, vanilla ice cream and chocolate sauce

Lost Paradise P161.50
Stewed apples with cinnamon, vanilla ice cream, raisins marinated in rum

Adam and Eve P130.25
Stewed apples with cinnamon and vanilla ice cream

Eden P134.50
Stewed apples with cinnamon and fresh cream

Fire Ball P160.50
Mixed fresh fruits flambeed in rum

Grand Marnier P119.00
With Grand Marnier liqueur

Gwenn Ha Du P197.50
Raclette with balck cherry preserve

Strawberry Short Crepe P217.25
Strawberry preserve in syrup and cream, a generous serving of strawberry ice cream topped with whipped cream

PB and J P105.00
Peanut butter and grape jelly crepe

Normandie P208.75
Stewed apples with cinnamon, caramel ice cream, caramel syrup and whipped cream

Mango Loco P231.75
Mango, cinnamon, vanilla ice cream and Grand Marnier

French Kiss P275.75
Freshly sliced orange, Nutella, vanilla ice cream and Grand Marnier

Crepes Suzette P158.25
Orange juice, orange zest and Grand Marnier flambe

Fantastic Pinay P205.95
Mango, nutellam chocolate sauce and whipped cream

La Pinay P160.00
Mango, vanilla ice cream and chocolate sauce

Tarzan P85.00
Banana and condensed milk

Blueberries and Cream P217.50
Blueberries in syrup and cream, a generous serving of vanilla ice cream, topped with whipped cream

Nutella P107.75
Hazelnut chocolate spread

Funtastyc P259.00
Banana, nutella, vanilla ice cream and Grand Marnier flambe

La Délice P197.50
Bananas, nutella, vanilla ice cream, almonds

Peche Mignon P259.30
Peach halves, vanilla ice cream, chocolate sauce, Grand Marnier and whipped cream

Original Sin P234.50
Apple, caramel ice cream, caramel syrup, walnuts, whipped cream

Cherries Jubilee P242.25
Cherry preserve, caramel ice cream, cinnamon rum flambe, caramel syrup

Déja Vu P210.15
Mango, special cream sauce, caramel syrup, vanilla ice cream

Le Magnifique P192.00
Banana, nutella, whipped cream and almonds
Cafe Breton Branches:

Trinoma Mall
EDSA cor. North Avenue
Quezon City, Metro Manila
02 9169186

1/F Greenbelt 3
Paseo de Roxas cor. Legaspi St.
Ayala Center, Makati City
02 757-4125

G/F The Podium
18 ADB Ave., Ortigas Center
Mandaluyong City, Metro Manila
02 6875971

1/F SM Mall of Asia
Entertainment Mall,
SM Central Business Park, Bay City
Pasay City, Metro Manila
02 5560279

Robinson's Place
Midtown Wing, Pedro Gil cor. Adriatico St.
Malate, Manila
02 5670704

Westgate
Space C-806 Central Precint
Westgate Center, Filinvest Alabang
Muntinlupa City, Metro Manila
02 7711214

Tomas Morato cor. Sct. De Guia
Quezon City, Metro Manila
02 3746334