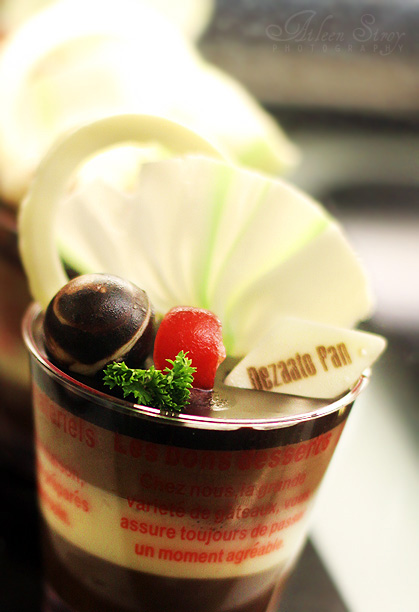 Triple Chocolate Mousse
Dezaato Pan is such a charming place, perfect for that after-dinner coffee, dessert, and conversation. They are very proud of their preservative-free breads, so grab a loaf or two. They also have a wonderful selection of cakes, mini-cakes, bread, gelato, hot and cold coffee concoctions. For Chris' birthday last night, we got him Tiramisu which was delightfully delicious.
The cafe is open from 10am to 12 midnight.
What to try at Dezaato Pan:

Layered Coffee, Roasted Nuts Latte, Matcha Latte, Butter Tsuki, Triple Chocolate Mousse, White Macadama Nuts, Green Tea Cheesecake, Apple Custard.

You may also want to try their gelato. The must-try flavors? Ferrero Rocher, White Chocolate with Nutella, and Coffee.

On your way out, grab a loaf of Sensei Adzuki (premium bread with sweet bean filling and coated with sesame seed), and Apple Nut Mori (juicy and delicious apple puree and walnut slices into one toast).

And do not miss their bestselling King Niku Pork Nori Sesame.

Price range
Bread loaf : P95-125
Coffee : P115 (8oz) - P130 (12oz)
Cakes : P600-800
Mini-cakes : P85-95



Roasted Nuts Latte

Dezaato Pan Tomas Morato
Unit 6 Thompson Square
165 Tomas Morato Street
Quezon City
Phone: 332-1845

Dezaato Pan Banawe
Sct. Alcaraz St., Banawe
Quezon City, Metro Manila
Phone: 743-9856